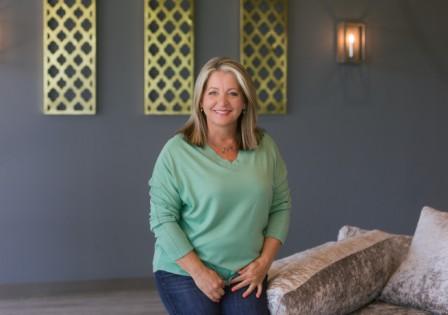 Introducing the Leading Ladies NKY Spotlight: Melissa Kirkpatrick 
Name: Melissa Kirkpatrick
Family members & pets: Dusty (husband), son Zach wife Molly & son Cole and his daughter (my granddaughter) Cyleigh Dog Thor and newest members L.C. the Cat and her baby Wheels
Occupation: Melissa Kirkpatrick Business Coach
I began my career as an executive secretary but transitioned in my 30s to High School I.T. teacher. Only in the profession for seven years, my family and I begin our journey owning and operating two public golf courses.  My life has always focused on teaching and motivating others, taking this passion into teaching women about the game of golf, taking them on the course to play, and showing them how golf relates to life. The beginning of Find Your Own D.R.I.V.E. coaching and mentoring.
After selling the golf courses, I am now helping those looking for the support and accountability to grow a successful business and live a happy and joy-filled life. Everyone needs a coach – they don't know they do. This is where I come in. I've learned to level up every decade, and with my business coaching services, I'm helping others do the same.
Education: Bachelor's in business education and a master's in technology education
What is one goal you've set for the rest of this year – next year? Setting goals can be challenging.  For me, it's because if I don't accomplish them, I've failed (old programming from my past). So, I've learned to reframe by "setting intentions." This was clear when last year I started accountability programs for my clients. When I introduced the use of "intentions" instead of goals, it allows you to release the uncomfortableness of not reaching a goal and more flexibility on a day-to-day rather than a deadline.
If you could learn to do anything, what would it be? I've always been fascinated and would love to learn American Sign Language.
If you could give one piece of advice to your younger self, what would that be? Don't take yourself so seriously, and remember to get out of your way. Life's a journey, not a marathon. In-Joy every moment.
Do you have a routine each day that helps to keep you balanced? I taught a workshop on Morning Routines last year. And I was surprised how many "options" are available as best practices.
However, I discovered that my morning routine it's about waking with a thankful heart, knowing I'm still here – so there is work to be done. I set intentions on the things needing to be done and add other things along the day. Being flexible with routines is key. Do not quit when things aren't going as planned – readjust and keep going. 
What's a product or service you are currently loving? Kroger Click-List with DELIVERY! I hate to grocery shop. And when my sister told me about the delivery, I was all in. We've used this service for over a year now, and I could not be happier. And we are eating better since we aren't going out as much and making better selections at the store.
What is the best book you've ever read? The Big Leap by Gay Hendricks. I read this book in 2011, and I reference and read each year and share it with my clients. It focuses on conquering your fears and taking life to the next level. When you can learn to live from your Zone of Genius, the Universe conspires on your behalf. 
What is the best advice you've ever received?  Your Thoughts Become Things, so choose the good ones! This statement was a real turning point in my life. When I heard this, I realized how negative thoughts run the show. When I became aware of this concept, I shifted from negative to more positive thoughts, which led to speaking more positively and taking inspired action.
Contact Melissa:
(513) 502-0059