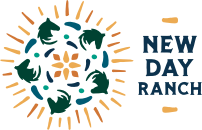 Introducing the Leading Ladies NKY March Non-Profit Spotlight

New Day Ranch

, CEO/Founder -Beth Long
Mission: To enhance the lives of individuals and their families by offering innovative opportunities for educational and social development through therapeutic activities with horses and within a farm environment.
𝐖𝐡𝐞𝐧 𝐝𝐢𝐝 𝐭𝐡𝐞 𝐨𝐫𝐠𝐚𝐧𝐢𝐳𝐚𝐭𝐢𝐨𝐧 𝐬𝐭𝐚𝐫𝐭 𝐚𝐧𝐝 𝐛𝐲 𝐰𝐡𝐨𝐦?
New Day Ranch became a 501-C3 in March of 2010
𝐖𝐡𝐚𝐭 𝐦𝐚𝐤𝐞𝐬 𝐲𝐨𝐮𝐫 𝐨𝐫𝐠𝐚𝐧𝐢𝐳𝐚𝐭𝐢𝐨𝐧 𝐬𝐭𝐚𝐧𝐝 𝐨𝐮𝐭 𝐚𝐦𝐨𝐧𝐠 𝐨𝐭𝐡𝐞𝐫𝐬?
As a certified therapeutic horsemanship our primary focus is on mental health and education. We work mostly with groups, school and other organizations.
𝐖𝐡𝐚𝐭 𝐚𝐫𝐞 𝐭𝐡𝐞 𝐠𝐫𝐞𝐚𝐭𝐞𝐬𝐭 𝐧𝐞𝐞𝐝𝐬 𝐨𝐟 𝐭𝐡𝐞 𝐨𝐫𝐠𝐚𝐧𝐢𝐳𝐚𝐭𝐢𝐨𝐧?
We are funded through donations, grants, minimal program fees. Primarily a volunteer organization. Hoping to secure funds on on-going basis. (Example: 100 people to donate $5.00 a month) Serving on fundraising/event committees-secure auction items.
𝐖𝐡𝐨 𝐝𝐨 𝐲𝐨𝐮 𝐚𝐬𝐬𝐢𝐬𝐭? 𝐖𝐡𝐲?
We work with Boone County Public Schools (Middle and High) Counselors/Teachers select youth that have social, emotional, behavioral challenges. Several schools then bring these students for a 10-12 week program working with the horses. Children's Hospital Mental Health Center brings youth residents 2 days a week. St. Elizabeth Hospital partners for several weeks in the summer as New Day Hosts Grief camps. Helping kids who have recently lost a loved one. Summer Outreach for inner-city youth as we partner with Inner City Youth Organization. We also offer leadership retreats and have served several businesses, School Staff, Couples groups, etc.
𝐇𝐨𝐰 𝐜𝐚𝐧 𝐩𝐞𝐨𝐩𝐥𝐞 𝐠𝐞𝐭 𝐢𝐧𝐯𝐨𝐥𝐯𝐞𝐝 𝐰𝐢𝐭𝐡 𝐭𝐡𝐞 𝐨𝐫𝐠𝐚𝐧𝐢𝐳𝐚𝐭𝐢𝐨𝐧?
We have volunteer applications on our website. Then we provide tours and get people plugged in.
𝐀𝐧𝐲𝐭𝐡𝐢𝐧𝐠 𝐞𝐥𝐬𝐞 𝐲𝐨𝐮 𝐰𝐨𝐮𝐥𝐝 𝐥𝐢𝐤𝐞 𝐭𝐨 𝐢𝐧𝐜𝐥𝐮𝐝𝐞?
We cannot serve the volume of individuals that contact us at this time. The need is so great in our community which is why we focus on groups.
𝐏𝐥𝐞𝐚𝐬𝐞 𝐬𝐡𝐚𝐫𝐞 𝐮𝐩𝐜𝐨𝐦𝐢𝐧𝐠 𝐞𝐯𝐞𝐧𝐭𝐬:
Our big fundraiser is in October "Boots and Bourbon" – We collect all types of auction items throughout the year for this event.
𝐂𝐨𝐧𝐭𝐚𝐜𝐭:
Beth Long
14838 Rosenstiel Rd. Verona, KY 41092
Office: 859-322-2884 Cell: 859-814-6740