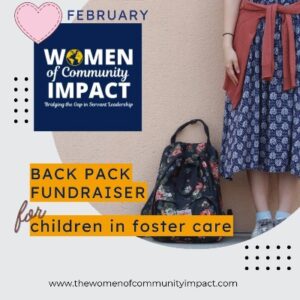 We are honored to introduce the February Leading Ladies NKY Non-Profit Spotlight:
The Women of Community Impact –Bridging the Gap in Servant Leadership
 Mission:
We envision a brighter future for everyone to feel loved, valued, and capable of achievement, thanks to educational opportunities that enable them to ascend beyond their circumstances.
When did the organization start and by whom?
The Women of Community Impact started in January 2020 by Celeste Giordano and Sara Poe
What makes your organization stand out among others?
As business professionals, our members are uniquely positioned with an available, extensive network of professionals and invested community members who care greatly about the Northern Kentucky/Cincinnati and Atlanta areas and its families.
Although we all lead busy lives, each of us can contribute something as servant leaders; united in collaboration and camaraderie through Women of Community Impact, we all make a difference and improve our community together.
What are the greatest needs of the organization?
Right now it is our February/March service Project for Foster Care.$50.00 will completely fill a brand new backpack with personal hygiene items and Love Note.
Any amount of donation is greatly appreciated to make a difference in our Northern Kentucky and Cincinnati area.
Who do you assist? Why?
We serve women and children who are homeless, victims of human trafficking, and children in families that are battling cancer in the Atlanta area, as well as underprivileged young people from all over the southeastern US and women and minority-owned business leaders seeking guidance.
Providing mentorship to boost achievement  –We offer coaching and mentoring to women and minority business owners and entrepreneurs who strive to advance their business goals. We also mentor young people who come from underprivileged backgrounds to give them a pathway for achievement throughout life.
Advancing our professional goals –As an inclusive networking group, we provide professional development events that build collaboration and camaraderie between our members and further our business results.
How can people get involved with the organization?
You can visit our website at www.thewomenofcommunityimpact.comOur Public Facebook Page: https://www.facebook.com/WomenofCommunityImpact/
Our private Facebook group:https://www.facebook.com/groups/thewomenofcommunityimpact
Or email at [email protected]
Anything else you would like to include?
We are honored and privileged to help and serve the community in Northern KY and Cincinnati in collaboration and camaraderie to making a difference.
Please share upcoming events:
February through March we are collecting money to donate 300 backpacks filled with personal hygiene items to Foster Care in Northern Ky/Cincinnati and Atlanta area.
Donate Here: https://www.paypal.com/paypalme/WomenImpact
The month of May will be our service project honoring homeless women and children in Northern Kentucky/Cincinnati and Atlanta. If you are interested in service please reach out to Celeste Giordano at [email protected]